Refreshing an Outdated Wayfinding System and Park Signs in Georgia
After years of service, the wayfinding and placemaking signage system in Powder Springs, Georgia, was showing its age. The city's signs suffered from typical wear and tear and were off brand after the city updated its visual identity.
Plus, sign placement didn't support newer attractions and destinations and didn't connect the city to the regional multipurpose Silver Comet Trail. 
In 2017, the city approved a new 20-year plan that included the following goals …
Create and implement a plan to revitalize and activate downtown and bring in needed activity to the area.
Create a marketing and branding strategy to breathe "fresh life" into the city and attract new residents, businesses and development.
Attract users of the Silver Comet Trail to Powder Springs with improved signage, wayfinding and facilities.
Wayfinding Signage Reflects Updated Civic Branding.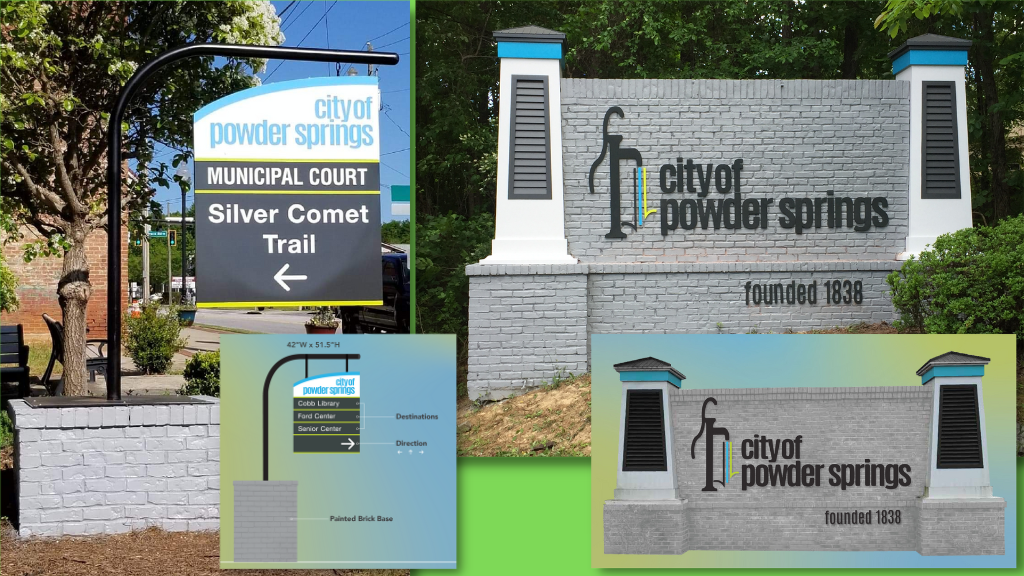 NSP had previously implemented and continued to manage a Homebuilder Directional Sign Program in Powder Springs. We jumped at the opportunity to update the city's outdated wayfinding and placemaking system. 
Powder Springs' new civic branding retained the city's iconic and historic water pump motif while positioning the city as progressive, vibrant, lively, and hopeful.
We matched the city's new visual identity with refreshed vehicular directionals, city entrance monuments, and signage for public facilities like city hall and the community center campus.
To conserve budget, NSP's designs considered every opportunity to repurpose signage foundations, signposts, and other materials from the city's outdated wayfinding system. 
Parks and Recreation Signage Connects City to Trail System.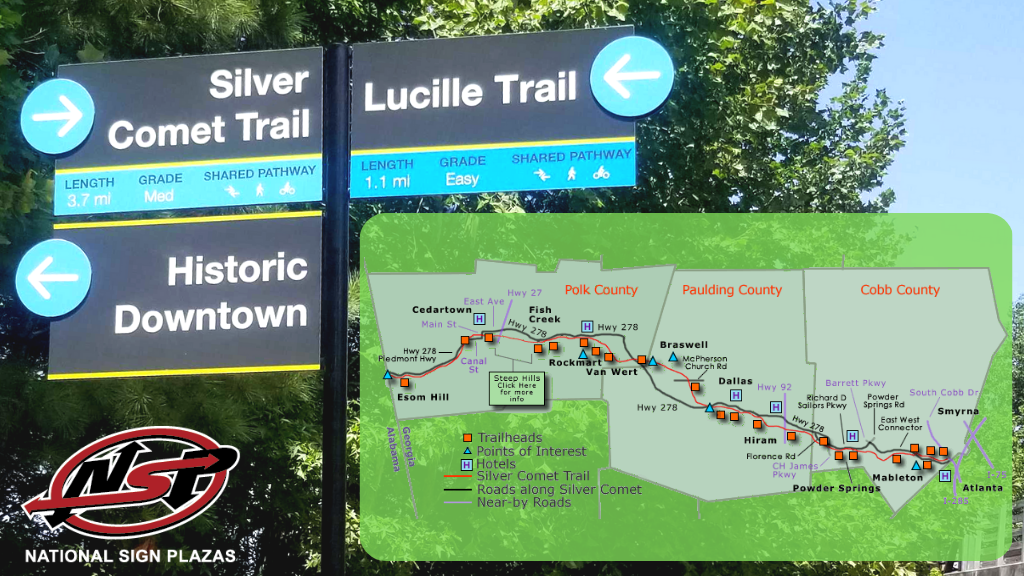 Of course, wayfinding is about more than just design.
NSP also developed new sign placement maps to highlight new civic attractions and capitalize on under-leveraged economic development opportunities. One such opportunity was to capture multimodal traffic from the nearby Silver Comet Trail. 
Stretching across 61.5 miles of retired railway northwest of Atlanta, the Silver Comet Trail attracts more than 2 million visitors per year.
Although Powder Springs serves as a gateway to the trail, the city lacked a means to capture and divert pedestrian and bicycle traffic from the trail to its historic downtown and local businesses.
The city's new parks and recreation signage helps position Powder Springs as a prime stop for shopping, dining, and sightseeing along the pathway.
Wayfinding Signs Implemented in Time for Park Opening. 
Although the global pandemic slowed fabrication and installation, NSP maintained a tight project schedule to complete the wayfinding system in time for the anticipated opening of Powder Springs Downtown Park. 
"The NSP signage program allows our citizens to locate and access city facilities as well as direct interested parties to city functions," Powder Springs official Brenda Haythorne said. "I highly recommend them to any city considering their services."