< Return to NSP for Home Builders
Permanent Offsite Signage for New Residential Developments.
Permanent offsite signage objectives.
Drive potential home buyers to your new residential development.
Connect the buyer's digital experience to the physical environment.
Filter and qualify the audience to ensure the right buyers reach your sales office.
Permanent offsite signs include informational and directional signage installed and maintained throughout the residential development's sellout. The most common size is 4'x8′ and sizes can range from 3'x5′ to 10'x16′.
Permanent offsite signage overview.
Offsite permanent signs stand around the clock at key intersections and high-traffic areas near your residential development. Signs typically feature a directional arrow or address and pricing or unique selling points about your subdivision.
Each sign should function as a connecting point within a preplanned directional route incorporating both permanent signage and weekend directional signs.
Your routes should be more than bread crumb trails leading from point A to point B. They should tell your brand story through information design and content delivery.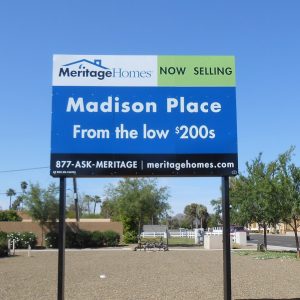 Just as your digital advertising uses targeting parameters and messaging to filter your audience, the information and brand promise presented by your offsite permanent signage should filter the audience so more of the right buyers reach your sales office and model homes.
The NSP difference.
Many home builders contract with separate vendors for their permanent offsite signs and weekend directionals, even though the two programs work together to drive the offsite home search process.
Odd, right? This is because temporary weekend signs require more oversight and management.
NSP is staffed to oversee both programs. We identify priority locations for your permanent signage, negotiate leases with landowners, and navigate local right of way usage requirements. 
By expertly handling all your signage needs – from permitting and mapping to design and fabrication – we give you more time to get more done.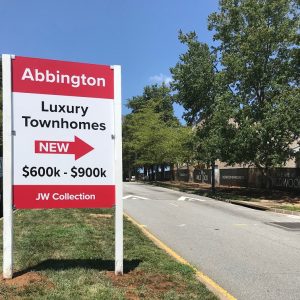 Get started with NSP.
For over 40 years, home builders in America's fastest-growing cities – from respected regional firms to every one of the nation's 30 largest developers – have trusted NSP to deliver qualified foot traffic to their subdivision sales offices and model homes. 
With NSP, you get far more than beautiful signs. You get strategic signage solutions that help you sell more homes. Contact your local NSP rep today!