< Return to NSP for Home Builders
Environmental Graphics for Subdivision Sales Offices and Model Homes.
Interior environmental graphics objectives.
Inform and influence the buyer at the moment of truth — inside the sales office and model home.
Translate your brand promise and marketing presence from the digital realm to the physical world.
A subdivision's sales office and model homes require a variety of environmental graphics and interior signs, as defined by the home builder's brand standards.
Sales office and model home signs overview.
Many home buyers have read your website, seen your search ads, or engaged with your social media campaigns. The environmental graphics within your sales office and model homes should integrate with and build upon your online presence.
In the new home construction industry, environmental graphics take many forms. Exterior signs identify the model and outline key specifications like square footage and bedroom and bathroom count. Interior signs highlight features such as energy efficiency and customization options.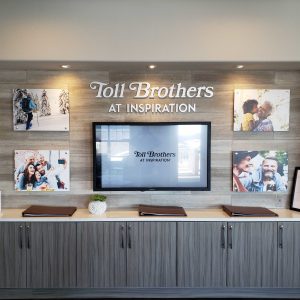 New innovations — from QR codes to bluetooth-enabled beacon technology — help to extend your interior environmental marketing into the digital realm.
The sales office and model home represent the moment of truth for the home buyer. Your environmental graphics are a critical piece of converting the sale.
The NSP difference.
Although smaller brands sometimes lack strict guidelines, the requirements and constraints around the interior design of the sales office and model homes are usually predetermined by the brand standards manual.
Whether you have strict guidelines or need graphic design support, NSP works within your parameters to develop environmental graphics and other physical media that deliver your message and brand.
In that way, our solutions bring your brand and marketing presence into the real world to inspire and motivate home buyers.
Get started with NSP.
For over 40 years, home builders in America's fastest-growing cities – from respected regional firms to the nation's 30 largest residential developers – have trusted NSP to deliver qualified foot traffic to their subdivision sales offices and model homes. 
With NSP, you get far more than beautiful signs. You get strategic signage solutions that help you sell more homes. Contact your local NSP rep today!