< Return to NSP for Home Builders
Weekend Directional Signs for New Residential Developments.
Weekend directional signage objectives.
Raise awareness for your subdivision among buyers unaware of your location.
Drive qualified foot traffic to your sales office and model homes.
Your weekend directional signage program may include any of the following elements:
Weekend directional signs. Sometimes referred to as bandits, snipes, or bootlegs, these are smaller temporary signs supported by posts or poles. Typical sizes are 18″x24″ to 36″x36″.
Weekend pole signs. Signs supported by posts or poles that are temporarily installed into permanent underground anchors. Typical sizes are 32″x48″ and 48″x48″.
Weekend trailer or skid signs. Larger signs that are hauled into position temporarily rather than installed in the ground permanently.
Weekend directional signage overview.
Weekend directional signs are temporary installations. Your sign vendor will usually place them early on Friday morning and collect them by Monday morning. Nearly 80% of all weekend foot traffic is driven by offsite permanent signs and weekend directional signs.
Weekend directional signs (commonly referred to as bandit, snipe, or bootleg signs) typically feature little more than a directional arrow and your company's name and branding. They may also include a detachable rider. This is a smaller sign that attaches to your directional sign and highlights a simple unique selling point or promotion, like a grand opening or sales event.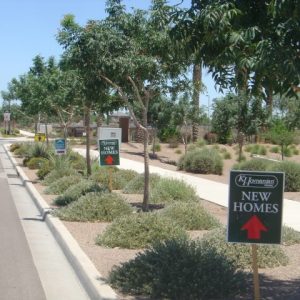 Trailer or skid signs are hauled into position by truck in areas where permanent offsite signs are restricted by municipal code. Like your permanent offsite signage, trailer or skid signs are large enough to help tell your brand story and qualify traffic through information design and content delivery.
As with your permanent offsite signage, weekend directional signage is subject to various local ordinances.
The NSP difference.
Many home builders contract with separate vendors for their permanent offsite signs and weekend directionals, even though their both serve to drive buyers to your development.
Odd, right? This is because temporary weekend signs require more oversight and management.
NSP is staffed to oversee both programs. We deliver field management and dynamic placement or your weekend routes, plus regular engagement with the sales office staff to ensure foot traffic is indeed on the rise.
By embracing rather than shunning these activities, we're better positioned to develop the most effective weekend routes for your development.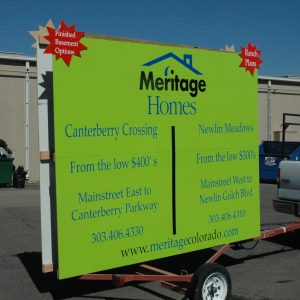 Get started with NSP.
For over 40 years, home builders in America's fastest-growing communities – from respected regional firms to every one of the nation's 30 largest residential developers – have trusted NSP to deliver sales traffic to their new home developments. 
With NSP, you get far more than beautiful signs. You get strategic signage solutions that help you sell more homes. Contact your local NSP rep today!