< Return to NSP for Home Builders
Exterior Onsite Signs for New Residential Developments.
Exterior onsite signage objectives.
Influence the buying decision by highlighting lifestyle elements of the subdivision.
Create a sense of place that differentiates one subdivision from another.
Orient and guide the buyer to model homes and through the development.
Your subdivision's exterior onsite signage may include any of the following elements:
Flags and monument and neighborhood entry signs create a sense of place at your subdivision's entry points.
Fence banners feature brand messaging or create urgency around depleting inventory.
Informational pedestrian signage orients visitors and highlights unique selling points.
Temporary signs communicate sold / available, lot numbers, quick inventory, quick move-in, etc.
Residential onsite signage overview.
Onsite signage encompasses the various flags and banners, neighborhood entrance signs, subdivision monuments, and more that enhance your messaging and further establish your visual brand once the buyer has reached your development.
Onsite signage is all about information rather than directions. Your onsite signage may highlight amenities, outline community-specific information, or call out incentives or upgrades.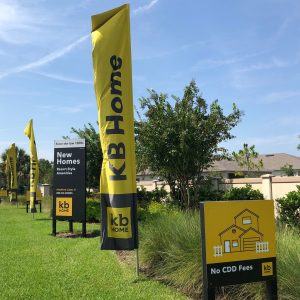 Exterior onsite signage evolves throughout the project. Early in a residential buildout, onsite signage illustrates the vision for the community and its amenities while obscuring unsightly construction work.
As sales offices and model homes are completed, exterior onsite signage orients and guides the buyer through the development and works with your interior sales office and model home signage to prepare the buyer to engage with your new home sales staff.
Large home builders often have strict brand standards and signage requirements. In these cases, sign vendors will focus on fabrication and installation alone.
Smaller brands often lack detailed guidelines, placing the information design and visual execution on the sign vendor.
The NSP difference.
At NSP, we have unique capabilities around influencing a buyer navigating an unfamiliar space. We've earned this knowledge through decades of collaborating with top home builders, plus our work in wayfinding and placemaking with towns and cities.
We're not a branding agency. We don't conjure your brand message. We expertly adapt your message from the digital world to physical media — your exterior signage — and deliver it.
In that way, our signage solutions bring your brand into the real world to orient, inspire, and motivate home buyers.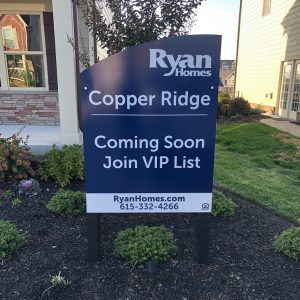 Get started with NSP.
For over 40 years, builders in America's fastest-growing cities – from respected regional firms to every one of the nation's 30 largest residential developers – have trusted NSP to deliver qualified sales traffic to their new residential developments. 
With NSP, you get far more than beautiful signs. You get strategic signage solutions that help you sell more homes. Contact your local NSP rep today!