How a Texas City Installed Dozens of Wayfinding Signs in DOT Right of Way
Waxahachie, Texas, is a community of nearly 40,000 residents on the southern edge of Dallas. It's the last stop in town for travelers headed south on I-35 to Waco, Austin, or San Antonio.
Waxahachie partnered with NSP to capture I-35 traffic and direct it toward the city's historic downtown and destinations like Navarro College, Chautauqua Aquarium, Lake Waxahachie, and Getzendaner Park. 
The effort included a wayfinding and placemaking system consisting of over forty directional signs – many of which would be located in Texas Department of Transportation right of way jurisdiction.
NSP's experience working with the Texas DOT was crucial to delivering the project in just six months!
"NSP's expert-level knowledge of obtaining approval from the Texas DOT was reassuring that the project would be a success," Waxahachie city manager Michael Scott said.
Best Practices for Placing Signs in Department of Transportation Right of Way.
While specific requirements differ from state to state, these three rules of thumb are helpful for positioning your wayfinding plan for faster DOT approval.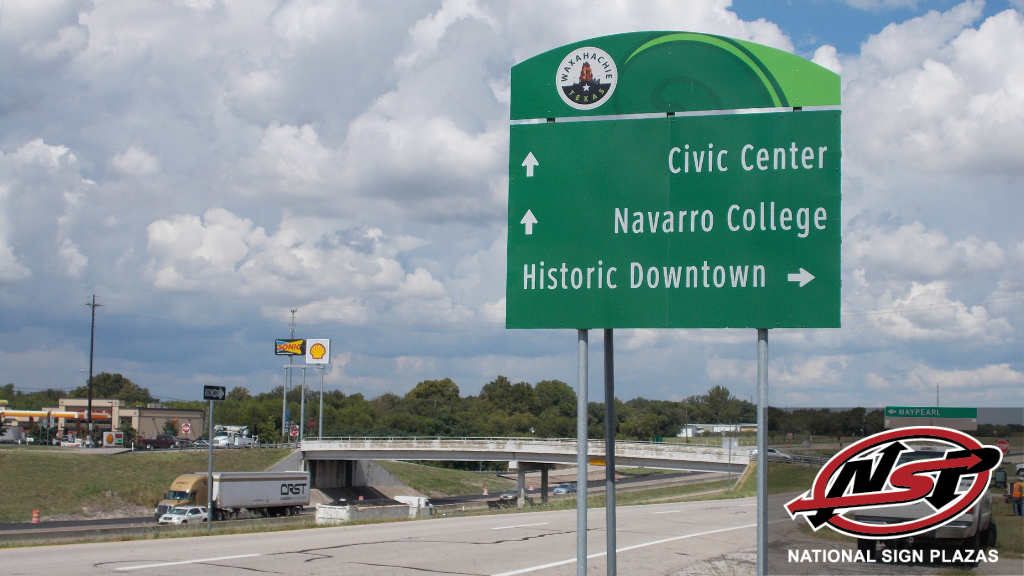 DOT Wayfinding Sign Criteria: Driver Safety.
Not surprisingly, driver safety is the top concern of all Departments of Transportation. Your signage plan must account for a number of safety issues including:
Sight Triangle, or visibility around the sign – especially at intersections.
Setbacks, or placement in relation to DOT signs and the roadway itself.
Breakaway, or the sign's ability to easily collapse if struck by a vehicle.
Additionally, the design of the sign's content must adhere to Manual for Uniform Traffic Control Devices (MUTCD) guidelines. This document covers everything from arrow placements and fonts to lettering height based on speed limit.
DOT Wayfinding Sign Criteria: Route Continuity.
Departments of Transportation outline preconceived pathways (usually along state roads) from points of origin along primary roadways to major destinations. Your wayfinding proposal must not interrupt these pathways or change the points of origin.
Further, your directional signs must make logical sense. For example, if your local library is highlighted in your directional plan, your signs should lead all the way to the library.
Let's say the library is on a side street. If the first two signs on a route show the library dead ahead, you must install a third sign showing the final turn down the side street to the library.
This may seem obvious, but we've seen a lot of plans that were rejected because they failed to account for route continuity.
DOT Wayfinding Sign Criteria: Ease of Document Review.
Ease of document review is not a formal DOT requirement, but relationship management matters. By including all required content in your application and by formatting your documentation properly, you make it easier for DOT engineers to review and approve your plan.
But how do you know what content to include and in what format? Well, let's just say it's helpful to have an established working relationship with the DOT engineer team.
Waxahachie's Wayfinding System Launched in Just Six Months.
NSP's experience working with Departments of Transportation helped smooth the way toward a fast and successful implementation of Waxahachie's wayfinding system.
We also shortened the project timeline with our single-vendor design/build approach, which enabled us to develop sign location plans and signage designs concurrently and then proceed immediately to fabrication and installation. 
From approval to installation, it took just six months to implement a wayfinding and placemaking system that was both visually engaging and adhered to safety standards required by Texas Department of Transportation.
Is Your City Seeking DOT Approval for Wayfinding Signs?
We have decades of experience working with Departments of Transportation across the country. Let's discuss your wayfinding project!