Four Sign Types Every Home Builder Should Know
Even in a housing boom, signage is critical to new home sales and marketing. 
Home search and discovery is driven by your weekend sign strategy. And your weekend signs and permanent signage should work together to filter and deliver the right buyers to your sales office.
Keep reading to learn more about weekend directionals, permanent offsite signs, exterior onsite signs, and sales office and model home graphics.
1. Weekend Directional Signs.
Often called bandit, snipe, or bootlegs, weekend directional signs are usually placed early on Saturday morning and collected on Sunday evening.
Weekend directionals feature a directional arrow and your company's name and branding. A small attachment, known as a rider, may be added to highlight a unique selling point or promotion, like a grand opening or sales event.
Objectives:
Raise awareness among buyers unaware of your location.
Drive qualified foot traffic to your sales office and models.
Learn more about weekend directional signs.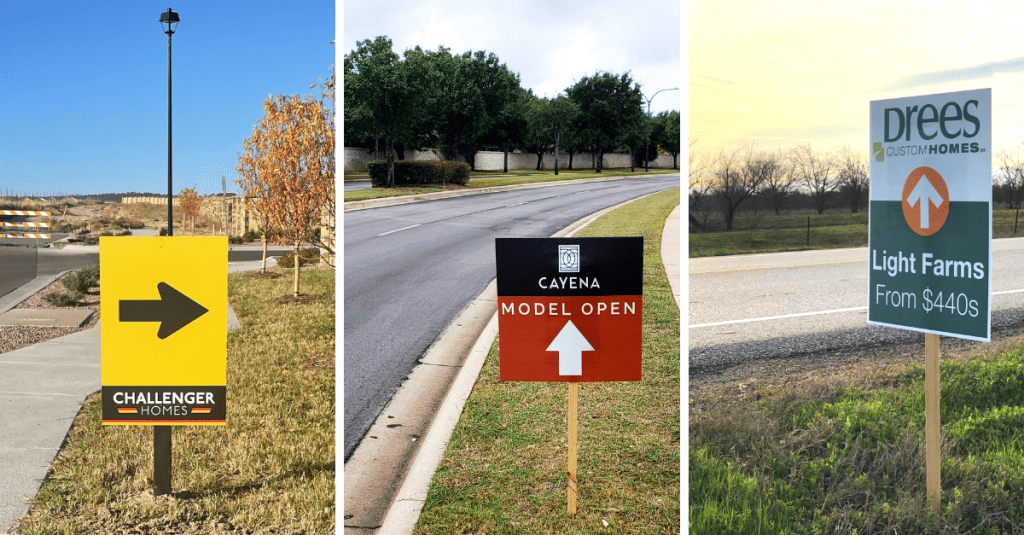 2. Permanent Offsite Signs.
Permanent offsite signs stand 24/7 at key intersections and high-traffic areas. They should direct traffic, obviously, while also telling your brand story through information design and content delivery.
They feature a directional arrow or address and pricing or unique selling points about your subdivision. The most common size is 4'x8′ and sizes can range from 3'x5′ to 10'x16′.
Objectives:
Drive potential home buyers to your new development.
Connect digital campaigns to the physical environment.
Filter and qualify traffic so the right buyers reach you.
Learn more about permanent offsite signage.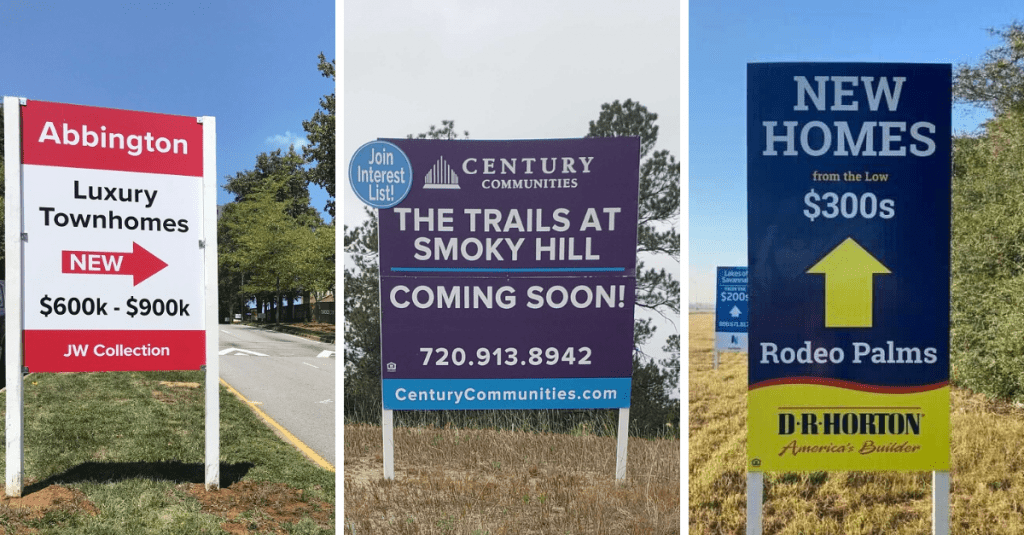 3. Exterior Onsite Signs.
Onsite signage includes the flags and banners, entrance signs and monuments, sold/available signs, and more that enhance your messaging and visual brand.
Early in a buildout, onsite signage illustrates the community's vision and amenities while obscuring unsightly construction work.
Later, onsite signage orients and guides the buyer through the development and prepares to engage with your sales staff.
Objectives:
Influence the buying decision by highlighting lifestyle and amenities.
Create a sense of place to differentiate your community from others.
Guide the buyer to model homes and through the development.
Learn more about exterior onsite signage.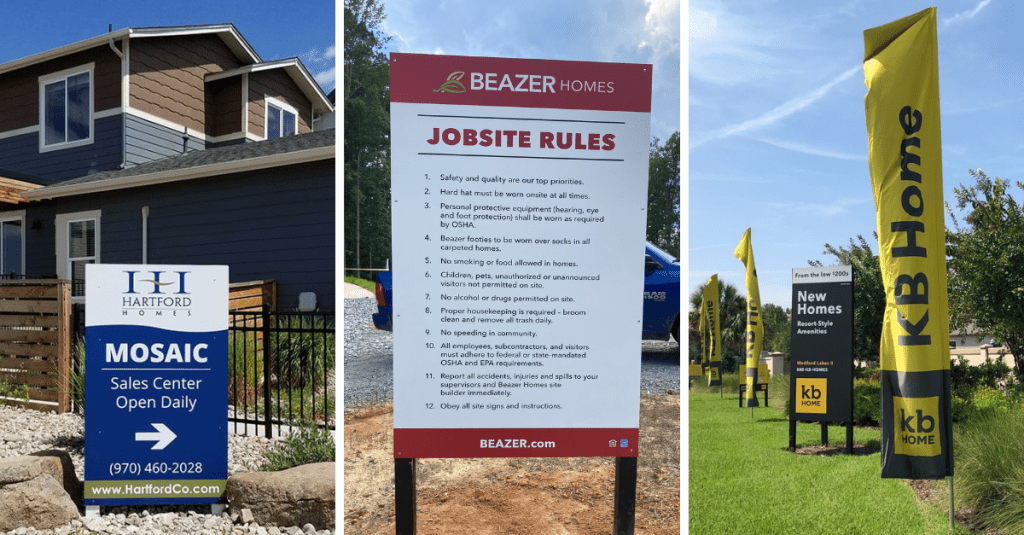 4. Sales Office and Model Home Signs.
The sales office and model home represent the moment of truth for the home buyer. Your signage and graphics in these spaces are critical to converting the sale.
Exterior signs identify the model and outline square footage, bed/bath count, etc. Interior signs highlight features such as energy efficiency and customization options.
And QR codes and bluetooth beacons extend your graphics into the digital realm.
Objectives:
Inform and influence the buyer at the moment of truth.
Connect the digital experience to the physical environment.
Learn more about sales office and model home signs.
Whitepaper: Home Builder Signs 101.
Dive deeper into weekend directionals, permanent signs, and more. Download our whitepaper!